The Little Things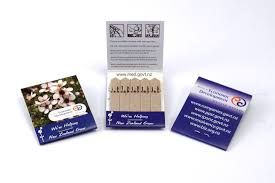 With so many people now working from home, many marketing campaigns need to be re-evaluated. It is important that businesses are able to adapt to these unexpected times. When choosing your promotional products, remember that some of the most valuable things you can provide right now are comfort and convenience.
Below are some mailable options to help you re-promote your brand from a distance.
Unique 20ml credit card shaped, pump action hand sanitiser that kills 99% of all bacteria and germs. It has a very large branding area on the front with full ingredient information printed on the back.
Please note that we have sold out of all our hand sanitiser items. Replacement stock is due August, but it may pay to order now to secure this. The hand sanitisers are 11mm thick which means you need three stamps.
Seed Cards are a highly brandable and an environmentally friendly promotional product. The card / booklet / envelope is made from Eco offset recycled stock and the seed packet is brown paper attached by two staples. Seed Varieties include Native, Vegetable, Flower and Herbs. Minimum Order 250.
Credit card size flash drive which can be branded in spot colours or full colour on one or both sides. It has 4GB of memory with a USB 2.0 interface and data uploading is available on request.
Encasing five seed sticks ready to place into the soil that will blossom into something edible or pretty. All packs are custom printed resembling a matchbook with seeds attached. This simple eco-friendly product is sure to be a hit. Seed Varieties include Flower Seeds, Vegetable Seeds, Herbs. Minimum Order 1000.
Soft-touch silicone wallet which adheres securely to the back of a phone or phone case with strong 3M adhesive that won't leave marks if it is removed. It is ideal for holding a drivers licence, ID, hotel key, credit card or business cards.
One stamp - Up to 7mm thick
Two stamps - Up to 10mm thick
Three stamps - Up to 20mm thick