Home

/

AS Colour has recently partnered with Reemi
AS Colour has recently partnered with Reemi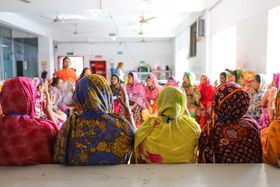 Our supplier AS Colour has recently partnered with Reemi to help workers in our factories.
Reemi is a social enterprise and non-profit that exists to see humans flourish everywhere, with 100% of their profits going towards helping others.

With a combined passion for health education and addressing women's empowerment, Emily Au-Young and Ashleigh Howan of Reemi strive to break the cycle and create change to women's health and wellbeing in the global garment industry.
Reemi focuses on women's health because they believe it is under-prioritised in the garment industry, even though the majority of workers are female. For Reemi this begins with menstrual health, providing educational and sustainable products that work for all cultures.

A recent study reported that 73% of Bangladeshi factory workers missed an average of six days of work per month (resulting in unpaid days) due to menstrual issues.
"We believe in partnering with local organisations - building on from what they are already doing and complementing their work with what they tell us they need, so we can achieve greater goals together".
Reemi wants every person to have access to menstrual health education and sustainable, culturally appropriate and affordable products.

They are developing innovative products and avenues to educate, helping provide access to environmental and culturally appropriate, hygienic solutions.
"We're so inspired and encouraged that you and your team have gone the extra mile to really see us fly in 2020! We want to tautoko what you are doing at AS Colour - as I've seen firsthand just how good your factories are and the significance of investing into long term relationships with factory owners.

I want to applaud and thank you for going beyond the factory four walls and investing in the lives of garment workers. Community creates change and we're stoked to welcome AS Colour into your whānau". - Emily & Ashleigh of Reemi.
Click here to find out more about Reemi.