Home

/

How to Stand Out from Your Competition
How to Stand Out from Your Competition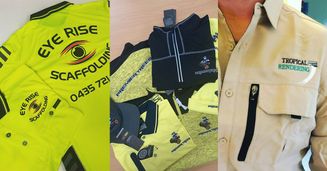 In a world full of increasing and evolving technology as well as constantly changing marketing techniques, it might feel like you're behind before you even start. This can make standing out from the competition increasingly difficult. Although navigating through the world of marketing can seem like a challenge, we're here to help your business stand out in as many ways as possible.
Throughout this blog, we will discuss how you can stand out from your competition and the best ways to do so.
Branded uniforms
The best way (in our opinion!) to stand out from your competition is to have a professional, eye-catching uniform branded with your logo.
Where you place your logo has more impact than you might think, with the left chest being the most popular choice. You might feel like this is random, but there's actually a scientific reason behind it! Research shows in countries where we read left to right, this carries over to other aspects of life, with our brains naturally looking left first. So, if you want the best place to put your logo on a uniform, this is probably the safest bet.
Having a branded uniform is crucial in allowing you to stand out from your competitors. Without your brand present on your uniform, it's unlikely that potential customers will remember you. In fact, T.R. McTaggart says that on average, 5 to 7 brand impressions are needed for someone to remember your brand, and brands that are easily recognised appear more trustworthy to customers. Brand recognition also encourages brand loyalty and can give your business legitimacy among competitors."
Our range of functional, durable workwear at Syzmik is the perfect blank canvas for branding and each garment is designed with multiple logo placement spots available for businesses.
For more information on Why Branded Uniforms are so Important, head to our blog.
Car wraps
Another option to help your company stand out from competitors is through a full or partial car wrap. A car wrap (minus the original cost) is essentially free marketing for businesses no matter where you drive your car. It generates increased exposure and depending on the quality of the wrap, can last quite a long time, making it a strong investment opportunity.
Car wraps can vary in size, from a full car wrap to a simple window or door adhesive sticker. Whatever option that you decide to invest in, it's important to remember that once you have had it put on, it's always there unless you get it taken off. This means that your business is always going to be on display, so things like your driving, road manners and even places you visit are on display. You are constantly being judged and if these things don't align with your values or you come across as rude or even breaking the law, you are almost shooting yourself in the foot with potential clients who might be seeing your car wrap.
On the flip side of this, having a car wrap is a great way for repeat exposures to potential clients in your local area. Even things like driving down to your local supermarket can get you noticed! Keep in mind that like most things, quality is important, so shop around for the best quality and the best price – you don't want to come across as shabby or unpolished!
For more information on car wraps, head to our blog: To Wrap or Not to Wrap.
Social media
For tradie business owners, usually, it's the trade side of things that comes naturally to us as opposed to the marketing side of things that may not come as easily. However, compared to traditional media, social media is a tool that is available to everyone, and can be the best way to gain access to new leads and potential clients for your business.
Facebook, Instagram, LinkedIn and even Pinterest are great starting points for your business and can be used to easily reach people. Setting up accounts across these platforms is a great way to reach certain targets that use them. It is a good way to showcase the awesome work that your company does, including some before and after shots, handy tips and more to keep your audience engaged. Having a strong social media presence can help you stand out from the competition and can often be a deciding factor when clients are trying to choose what business to go with.
Networking
Similar to social media, networking is another invaluable tool that tradies can use, but may not already as it might not be something that comes naturally to them. However, networking with other businesses may bring on some opportunities that you might not otherwise have been aware of. Whether it's online or in-person, it's a great way to meet new people, give out a business card or two and increase exposure for your business. It's also a good way to keep an eye on your competition, or even get a leg up on them if you're the only business of your type there!
Another way to network is to reach out to older clients and see whether they would be happy to leave your company a review, or even if they would be happy to refer someone to you if you threw in a discount for them. Although it might feel a bit daunting to ask, if you don't ask, you'll never know!
If you feel like you don't have the time to attend networking events, social media (especially Facebook and LinkedIn) are great places to find groups and other local businesses to get in touch with.
There are many different ways to stand out from your competition, with positives and negatives to each. However, a tried-and-true way is through a good, strong and professional branded uniform.
To check out our latest range, view our catalogue here.
Syzmik Blog - 15 May 2021